Do you need a book or article for your research and the library does not have it? (Please note, the library does not process requests for required textbooks for current ongoing courses.) The library can provide your item to you by requesting it from other libraries or sources. We will contact you when it is available via your UWest email. If you have a special case or request, please come to the library in person and we will do our best to assist you. (For other libraries: To borrow from us, please skip to below: Interlibrary Lending)
How to use the document delivery service?
First, make sure the library does not own the material you want by searching our catalog. If we do not have the item, there are two options. You may (A) find the item via the 'Libraries Worldwide' filter in the catalog, click on the title of the item that we do not have and look for the 'Please get this for me!' button; this will pre-fill the bibliographic information in the document delivery request form. It is NOT necessarily to find out which other library has the item.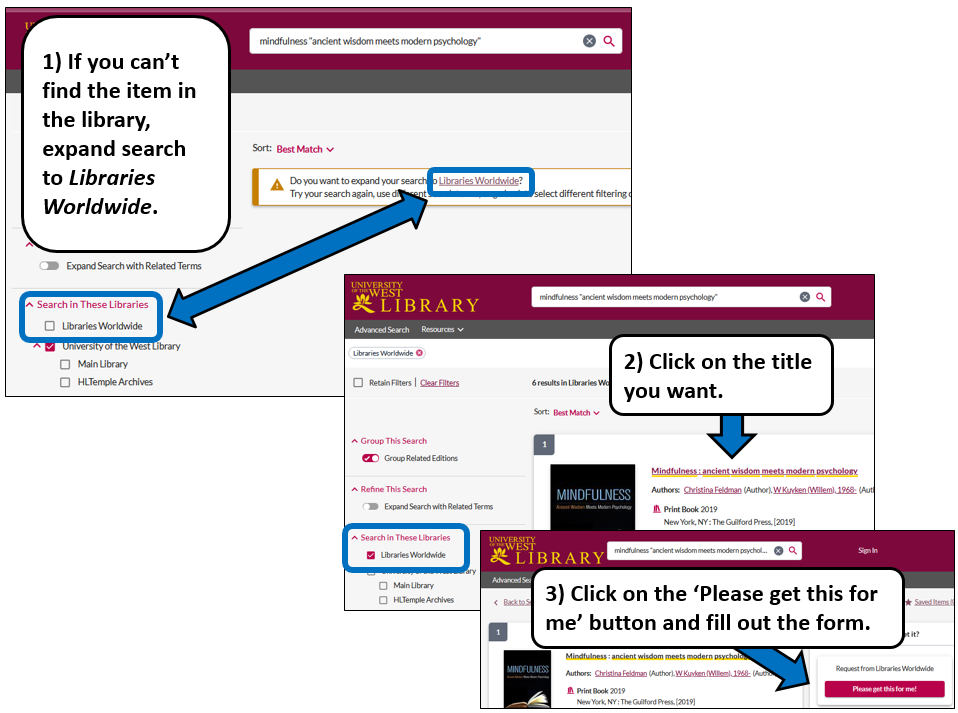 Or you can (B) log on to your library account to directly fill out a document delivery request if you already have the full citation information.
You will be able to see the progress of your request(s) in your library account.
How much does it cost?
We will always make every attempt to obtain materials at no cost to you. 80%-90% of the time, the request is free. When the lending library charges a fee, you will be notified via email and if you agree to pay, we will initiate the request. If fees are involved, it is payable upon receipt of material. Transactions cannot be canceled once initiated. Fees generally range from $15-$30 per item.
How many requests may I submit?
Please check your borrowing privileges.
How long does it take?
Check the request form's estimated time of availability. If the material is readily available in a library with which we have a special arrangement, it may be available sooner. If we have to go to more than one location for the material, it will take longer.
May I cancel my request?
You may cancel the request from your library account if we have not started to process the request. You will see the cancel option under your list of current requests.
What if I don't pick up my request?
If you need additional time to pick up an item, please let us know. Keep in mind, processing your request involves lots of steps and each request is processed individually. It involves both the staff of the lending and the borrowing library, as well as back and forth shipping/scanning. If you do not pick up your request, a record of non-pick up will be placed on your account and future requests may include processing fees.
How long can I keep it?
Electronic deliveries are yours to keep. Generally, you may keep physical items up to 3 weeks. It differs depending on the lending library.
Why can't I request ebooks or evideos?
Ebooks & evideos sometimes have vendors that only sell or are licensed to individuals. Those that can be purchased by libraries--with special online platforms that enable use by multiple authenticated users--are multiple times the price of physical materials due to the security and technology needed to provide access. This setup also means it can't be borrowed from or lent to other libraries. We recommend that you request the most relevant chapter or section of a book if you would like to access the text electronically via online delivery, otherwise request the physical format for pickup at the circulation desk or USPS mailing. In regard to e/textbooks, please see Why doesn't the library have copies or process requests for textbooks needed for class?
Interlibrary Lending
For libraries that wish to borrow an item from us, we are on OCLC ILL (Symbol: HLQ). We prefer OCLC ILL, however, you may also send an email request to: library@uwest.edu--please specify you do not have OCLC for quicker turnaround.
Our fees:
Copy: We charge what you charge for copies (1-30 pages). For non-lenders, the charge is USD$30.
U.S. Loans: We charge what you charge. For non-lenders, the charge is USD$30 + postage.
Canada Loans: USD$40.
Other International Loans: USD$50.
We may reply with conditional to charge partial postage for cost recovery on heavier shipments.
We accept IFM and invoicing. Invoices are included with the item where applicable.
Include the following info if you wish to email your request:
* Name of the authorizing staff person
* Complete and clear delivery address and email.
* Bibliographic citation, with each element individually labeled.
We will notify you via email if there are any problems.