We welcome any comments or suggestions, and we look forward to hearing from you! Visitors from the community, please check here for more information.
By Chat Messaging
Chat messaging is usually available during open hours. You may also leave a message when we're not available to chat and we'll get back to you by our next opening day.
By Text
FOR TEXTING ONLY: (626) 782-5591. We will respond during open hours. Your phone carrier's regular text message and data rates may apply.
By Email
Please e-mail us when you have any comments or questions. The library e-mail address is library@uwest.edu (contact form for logged in users).
By Phone
Give us a call for your questions. A librarian will be available to help you during library hours. Call: (626) 571-8811 ext. 3319, or the direct line: (626) 677-3319.
By Online Video & Screensharing Software
We can answer your questions via online video and screensharing software. Contact us to set this up.
In Person
During regular open hours, you are encourage to come to the circulation desk when you need any research assistance, help, etc. Appointments are encouraged, email us to setup a time for research consultation: library@uwest.edu (contact form for logged in users).
By Fax
(626) 571-1413. Please note on your fax: Attn: Library.
Directions to the Library
We are located on the first level of the Education building, adjacent to the auditorium. Please also check our library open hours before visiting. There are no parking restrictions for campus visitors. However, visitors should check in at the Administration building before visiting the library unless otherwise specified.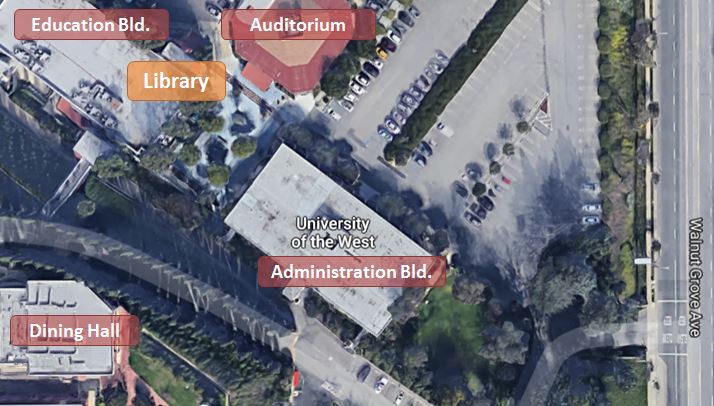 Our address is:
Lewis R. Lancaster Research Library
University of the West
1409 Walnut Grove Ave
Rosemead, CA 91770