For general UWest COVID-19 information, please see UWest Covid-19 Alerts & Resources and check your @uwest.edu or @my.uwest.edu email.
The library is physically closed to patrons, however we will continue to provide services via phone, text, chat message, and online meeting technologies. Library items may be requested by curbside pickup or other delivery methods. The dropbox is open for returns. Please contact us at any time if you need access to library materials and/or need help with finding information.
We encourage you to utilize our online resources and as well as the online materials via the catalog (Online Formats: Article, Chapter; a majority of Thesis, Dissertation; eBook; eVideo; eJournal, Downloadable Archive Material) as they are all available remotely with your UWest library account. If you have any questions, you may contact us with various methods, including the messaging box at the corner of every library webpage:
Frequently Asked Questions (Updated 6/1/2021)
Q1: I have items checked out, do I need to return them right away? How do I return them?
A: Regular Books/Magazines/Videos: Those who have registered for Summer or Fall 2021 may contact us to request an extension to 8/8/2021. There is a drop off box next to the library entrance where you can drop in your returns. Returns may not immediately reflect on your account as we will set the books aside for 7 days as a precautionary measure based on recent industry recommendations. If returned items are still in your account after 1 week, please contact us. You may also mail back the books to our address: University of the West Library, 1409 Walnut Grove Ave, Rosemead, CA 91770. If you need assistance with mailing rates and tracking, please contact us. We will let you know when we have received your return.
Reference books/Equipment such as headsets, laptop locks, etc: Those who have registered for Summer or Fall 2021 may contact us to request extensions for another 3 weeks. To return equipment, please text (626)782-5591 during our open hours and wait for our response. A book truck will be placed outside for you to return the equipment.
Q2: I need a book or article from the library, how do I get it?
A: Here are some ways to find items you want and get them--if you get stuck at anytime, please contact us, we're here to help you.
1. Check our catalog for the item, click 'Please get this for me' and select your delivery method with our document delivery form. It doesn't matter if it is available at the library or not (you can use the filter at the left to search Libraries Worldwide instead of just UWest Library), but extra time would be needed to get the items that are not currently available at UWest.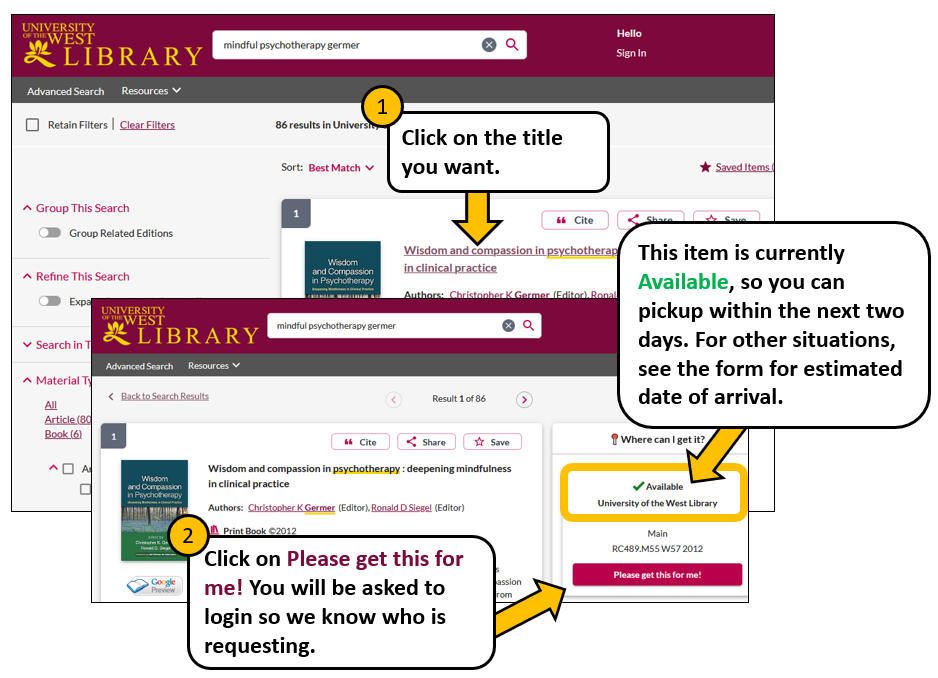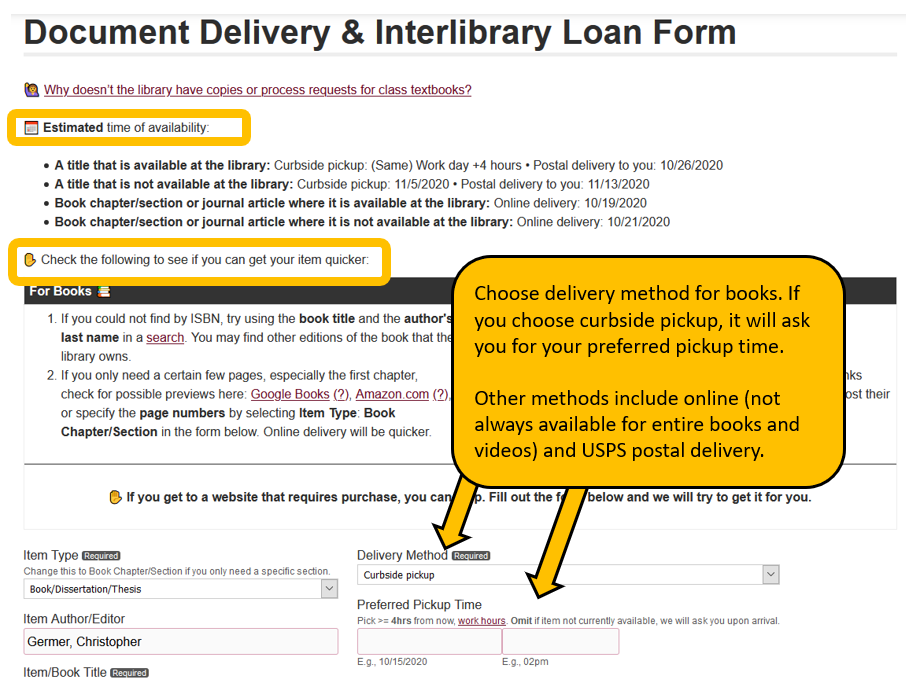 2. If you are looking for article/articles, get started with any of these short guides:
o    I cannot find this one specific article!
o    I need to find articles from my professor's recommeded list of journals!
o    I need to find scholarly articles that I can read right away and don't have to pay for!
Q3: I have some questions about using the library or doing research, how do I get help?
A: You may email, text, or message us. For more complex questions, we can also use a variety of online meeting technologies such as Zoom.
Q4: Can I still use the graduate study room?
A: The physical closure of the library means you will not be able to access this floor of the ED building, thus the graduate study room will also be closed.
Q5: How do I purchase print credits?
A: Please call the accounting office regarding payment: 626-571-8811 ex:2123. Prices are listed here near the bottom of the page.
Q6: How can I print?
A: Park directly outside the library behind the auditorium. Connect to the campus wifi and print using any of the methods described here, then call 626-677-3319 within 5 minutes of printing so we can confirm print out. Your prints will be retrieved and placed outside for pickup. Please only do so during our curbside pickup hours, pickup will not be available when we are not in the office.